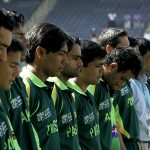 The Pakistan Cricket Board says it needs "further consideration relating to the clearance of players" before announcing a 30-man preliminary squad for the World Cup.
All 30-player squads have to be sent to the International Cricket Council by Sunday. They will later be trimmed to a final 15-man squad for the tournament in India, Sri Lanka and Bangladesh, which starts Feb 19.
Pakistan batsman Salman Butt and bowlers Mohammad Asif and Mohammad Amir are currently suspended by the ICC under its code of conduct over "spot-fixing" allegations. The players will face a hearing next month in Doha, Qatar.
The PCB has also deferred announcing a squad to play six one-day internationals against New Zealand, which starts at Wellington on Jan. 22.