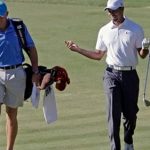 Thousand Oaks: Steve Williams never imagined that losing his wallet could fuel so much speculation that he was on his way out as Tiger Woods' caddie.
Hours after the US Open at Pebble Beach, where Woods closed with a 75 and offered some veiled criticism of his caddie's advice in the final round, Williams was sitting alone in the Monterey airport while staring intently at his cell phone.
A golf blogger recognized him, took his picture and posted it with the headline, "Steve Williams at the airport, without Tiger Woods." Never mind that Williams lives in New Zealand and Woods lives in Florida. Along with Woods' post-round comments, it was enough to wonder if Williams would be employed much longer.
Told about the photo months later, Williams started laughing.
"I left my wallet in the rental car," he said, explaining the text he was reading on his phone. "The speculation is incredible, how many people thought I would be fired or that I would retire. People just make up these stories. Look, I work as a golf caddie. It's all I've ever done. I'm working for arguably one of the greatest players who ever played, who is fully committed to breaking Jack Nicklaus' record."
"Why would I quit in midstream?"
Williams has been on the bag for more than a dozen years with Woods, and they have shared some happy times — 72 victories around the world, including 13 major championships.
He also was guilty by association through some unpleasant times.
Williams never heard from his boss a year ago in December when Woods' personal life was collapsing with each report of infidelity. Most people assumed Williams was part of the deceit, and even his repeated denials didn't change some opinions. Getting through the gossip on and off the course wasn't easy on Williams or his family.
Getting back to the golf hasn't been as fun, either. Woods not only failed to win for the first time in his career, there were a couple of times when they finished a weekend round before lunch.
The caddie sure wasn't expecting a year like this.
"When you compete at this level, a large percentage of your success is due to your mental preparation," he said. "And evidently, Tiger's mind wasn't as sharp due to his own personal problems. He's come back from an injury before. I've caddied for him for 12 years, and the two times he had long layoffs, he came back like nothing had happened. I didn't think a lot would change."
It didn't take long to realize he was wrong.
Sure, Woods returned at the Masters and got right back in the mix. He opened with a 68, closed with a 69 and tied for fourth. Williams knows his game better than anyone, and none of the indicators were appealing.
"It was evident after Augusta that it was going to be a bit of a struggle," Williams said. "Then, of course, he was questioning his own swing and whether it might be time to change his swing. As soon as he made that decision, I knew right there and then it was going to be more of a rebuilding year. Which is fine."
No one felt sorry for Williams.
His worst year working for Woods was in 2004 — two victories, fourth on the PGA Tour money list with over USD 5 million, top 10s in all but five of his 21 tournaments. Which caddie wouldn't take that?
The feeling among some of his peers was, "Welcome to our world."
For most of the year, Woods looked no different — certainly no better — than some of the players in his group, whether it was Jason Bohn at the Memorial, D.A. Points at Aronomink or even 22-year-old Kieran Pratt, who made his pro debut at the Australian Masters and beat Woods by one shot when they were paired together.