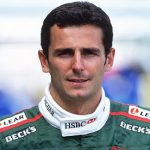 Moscow: Vitaly Petrov, Russia's first Formula One driver, has extended his contract with the Renault team for the next two years.
"I'm very excited about working with this great team once more, and I'm confident that I will deliver," the 26-year-old driver told a news conference in Moscow on Wednesday.
"In many ways, 2010 was about learning. 2011 will be about performing. Today, I feel I am ready to rise to this challenge."
The Renault Formula One team will race as Lotus Renault GP next year under a long-term partnership with the Malaysian-owned sportscar company, who will also become co-owners.
"I'm very happy to continue with the team and proud to be representing Lotus Renault GP for the 2011 and 2012 seasons," said Petrov, who will partner Poland's Robert Kubica next year.
"I learned a lot about the sport, the circuits and the car this year. That will help me improve even more in the future."
Petrov's position with Renault has been uncertain after an inconsistent first season in Formula One.
He scored just 27 points to Kubica's 136 this year but stood out in the season-ending Abu Dhabi race when he finished sixth having kept Ferrari's Fernando Alonso, who had been leading the championship before the race, behind him for 40 laps.
"We're delighted to have Vitaly on board for another two years," team owner Gerard Lopez said in a statement.
"Last season, he showed on several occasions that he clearly has the potential to deliver. It was just a matter of putting everything together during the same weekend, race after race, and this will be his target for 2011."
Eric Boullier, Lotus Renault GP team principal, added: "We are very pleased to confirm that Vitaly will be staying with us for 2011 and 2012, in order that both he and the team can build on a promising 2010 campaign."
"The entire team has been working flat out over the past months to improve our competitiveness, and a stable driver line-up is essential to achieving our targets."