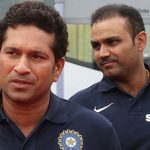 Dubai: Indian batting icon Sachin Tendulkar, along with Virender Sehwag, on Wednesday found a place in the list of players nominated for an ICC online poll to pick the all-time greatest team as part of one-day cricket`s 40th anniversary celebrations.
The retired Sourav Ganguly is also part of the list of openers, from which only two would make the final dream team.
"To mark the 40th anniversary of One-Day International cricket, the ICC`s official website is asking supporters from across the globe to select their choice of the greatest ODI match and team of all-time," the ICC said in a statement.
A website is asking supporters to select a dream team from a shortlist of 48 players and pick their favourite game from a choice of 10 memorable matches.
Fans can select dream team and favourite game till January 2, with the choices set to be announced on January 5 to coincide with the 40th anniversary of the first-ever ODI match between Australia and England.
"With the ICC Cricket World Cup 2011 now less than two months away, excitement and interest in the one-day format of the game will certainly intensify. We know that fans will enjoy having the chance to remember some of the great games and great players that have played in ODI cricket during the past 40 years," ICC Chief Executive Haroon Lorgat said.
The Australian ODI team from 1971 will also be presented to the crowd during the innings break of the first ODI match of the series between Australia and England at the MCG on January 16.
In the nominees for the Greatest ODI team of all time, Mahendra Singh Dhoni is the lone Indian in the list of wicketkeepers.
However, no Indian has found a place in the list of middle-order batsmen and fast bowlers, while the legendary Kapil Dev has found a mention in the all-rounders` nomination.
Anil Kumble and Harbhajan Singh have made the list of spinners shortlisted for the dream team.
Two India match (the win over West Indies by 43 runs at Lord`s, 25 June 1983 and the triumph against Pakistan by five runs at Karachi, 13 March 2004) are there in the list of nominees for the greatest ODI match.
The shortlist for Dream Team:
Opening batsmen (2) Saeed Anwar, Sourav Ganguly, Gordon Greenidge, Matthew Hayden, Sanath Jayasuriya, Virender Sehwag, Sachin Tendulkar, Glenn Turner.
Middle-order batsmen (3) Michael Bevan, Martin Crowe, Aravinda de Silva, Inzamam-ul Haq, Brian Lara, Javed Miandad, Ricky Ponting, Viv Richards.
All-rounder (1) Ian Botham, Kapil Dev, Andrew Flintoff, Richard Hadlee, Jacques Kallis, Imran Khan, Lance Klusener, Shaun Pollock.
Wicketkeeper (1) Mark Boucher, MS Dhoni, Andy Flower, Adam Gilchrist, Romesh Kaluwitharana, Moin Khan, Alec Stewart, Kumar Sangakkara.
Fast bowlers (3) Wasim Akram, Allan Donald, Joel Garner, Michael Holding, Dennis Lillee, Glenn McGrath, Chaminda Vaas, Waqar Younis.
Spinners (1) Shahid Afridi, Carl Hooper, Anil Kumble, Muttiah Muralitharan, Saqlain Mushtaq, Harbhajan Singh, Shane Warne, Daniel Vettori.
Greatest ODI match of all-time:
West Indies beat Australia by 17 runs at Lord`s, 21 June 1975.
India beat West Indies by 43 runs at Lord`s, 25 June 1983.
Pakistan beat India won by one-wicket at Sharjah, 18 April 1986.
England won by three wickets against Australia at Sydney, 22 January 1987.
Australia won by one-wicket against West Indies at Sydney, 12 January 1996.
Australia tied with South Africa at Edgbaston, 17 June 1999.
Pakistan tied with Sri Lanka, at Sharjah, 15 October 1999.
India beat Pakistan by five runs at Karachi, 13 March 2004.
Bangladesh beat Australia by five wickets at Cardiff, 18 June 2005.
South Africa beat Australia by one-wicket at Johannesburg, 12 March 2006.