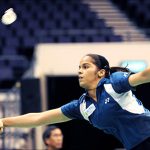 Hyderabad: The season-ending India Open Grand Prix suffered a huge setback on Wednesday with star attraction Saina Nehwal pulling out of the women's singles draw due to an ankle injury.
Fresh from her triumph at the Hong Kong Super Series last week, Saina was practicing this morning when she felt a slight pain on her right ankle and decided to pull out to avoid aggravating the injury.
"I had felt a little jerk in my right ankle during the third set of the Hong Kong Open finals but it wasn't bad. Even after I came back home, it was ok but this morning I felt the area had swelled a bit and there was a little pain. So just to be on the safe side, I decided to withdraw," Saina told reporters.
The tournament is already grappling with star pull outs with second seed Maria Febe Kusumastuti of Indonesia, fourth seed Jeanine Cicognini of Switzerland and sixth seed Indian Aditi Mutatkar pulling out of women's singles yesterday.
"I really wanted to play but then it would have been an unnecessary risk as I didn't want to aggravate it," Saina added.
KC Punnaiah Choudhary, secretary (Events) of Badminton Association of India, said Saina's withdrawl will affect the tournament.
"Of course, it (Saina's absence) is going to affect the tournament," Choudary said.
Saina said she is taking a break and will decide on her future assignments later on.
"I won't be able to play the Super Series Masters or the National Championship as I am taking a break, and I am yet to decide on the schedule next year. May be I will be back with the Malaysian Open, I have to see," she said