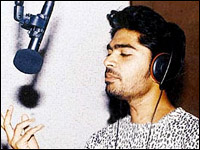 The singer in Simbu has come out once again for the film Mambattiyan-2 which is getting ready for its release. It looks like STR is also taking his singing career seriously apart from acting.
Simbu has belted out a number for songs in his films as well as other movies. It was very recently Simbu has sung a song for Renigunta team's next venture 18 Vayasu. The film is the remake version of Mambattiyan that released in 1983. Mambattiyan -2 features Prashanth in the lead role while Meera Jasmine is playing his heroine. The song goes like Kattuvaliye pora Ponnu…has been crooned by Prashanth's father Thiagarajan. Thaman has given some hip-hop version to the song which will match the current trend.
This hip-hop version has been sung by Simbu. National award winning lyricist Vairamuthu has penned the lyrics for all the songs. The shoot of the film got wrapped up and the post production works are on full swing.