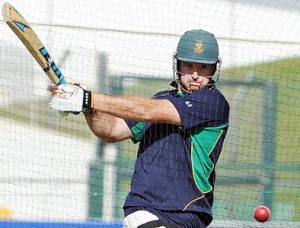 DURBAN (Reuters) – South Africa are prepared for India's experienced line-up to fight back strongly in the Boxing Day test after their crushing defeat at Centurion, captain Graeme Smith said on Thursday.
South Africa cruised to victory by an innings and 25 runs in the first test of the three-match series after India crumbled to 136 all out on day one in the face of testing Proteas pace bowling.
"After what happened in the first test I expect them to be better, especially from a batting perspective, as they will know what to expect," Smith told a news conference before the match starting on Sunday.
"India are an experienced team and I expect them to come out fighting in the next test and I expect them to use their experience to bounce back. We can't afford to take anything for granted in terms of how we expect them to go," he added.
While Smith expects the number-one ranked test team in the world to present a stiffer challenge at Kingsmead, he said his own charges would draw a lot of heart from how they had performed in the first test.
"When you win by an innings and 25 runs you do take a lot of positives out of the game and a lot of confidence. From our perspective we have taken a few big steps forward in the series and India have probably got a few doubts," he said.
South Africa do not have an impressive recent record in Durban having lost their last two matches at Kingsmead by significant margins.
In last year's Boxing Day test they were trounced by England by an innings and Australia won by a convincing margin of 175 runs.
Smith said that while he was aware of South Africa's woes at Kingsmead he was confident that his team had put those performances behind them.
"Our last two matches here have not been our best performances and all round we haven't played that well here but it's up to us to put that right," he said.
"We have had a good chat about how we want to play in Durban and the things we can use to our advantage. We have a lot of guys in the team who know the wicket and understand how it plays," Smith added.