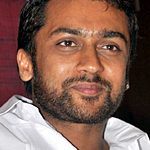 You already knew Suriya is doing a guest role in the Vishal-Arya starrer 'Avan Ivan' only for his mentor Bala. But his fans were restless to know what will Suriya be doing in the double hero film directed by Bala.
In 'Avan Ivan' Suriya plays himself as an actor and dances for a song. Yes. Much like what Simran did in Bala's 'Pithamagan'.
In 'Pithamagan' Simran played an actress who comes to the village which is a big fan of her. She there dances for a song to make them happy. But in 'Avan Ivan' Suriya will be dancing to an original song and not a re-mix as Simran did in 'Pithamagan'.