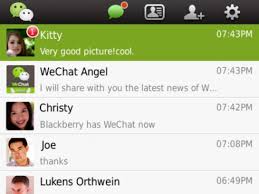 Tencent, a Chinese Internet company, has launched its mobile messaging platform, WeChat, for the Indian market. The app is a free mobile voice and text messaging application available on four platforms – Android, Windows, iOS and Symbian. The app has already more than a 100 million users across the globe.
"We are excited to launch WeChat in India at a time when data based messaging services are on the surge and with the increased proliferation of smartphones, instant messaging/chat platforms are becoming the preferred mode of communication among youth," said Dennis Hau, head of international product center, Tencent International Business Group. "WeChat is not just a simple instant messenger mobile app but it is actually a platform that intends to introduce a new communication style where users can connect with each other via interesting push-to talk voice messaging, video call, shari
The app has some interesting features like 'Moments' where one can share photographs with selected contacts. It also allows group chat, supports animated emoticons and Emoji art. It also allows users to connect with their social circles from phone contacts and Facebook and can also use location-based social (LBS) features to discover other members of the WeChat community.ng precious moments (image/text/content) and more, soon to be evolved, features based on users' needs."
On being asked about the further development of the application and the company's strategy for India, Hau said that revenue generation is not the focus at present. "We are at an exploration stage in the Indian market. We want to be the default choice of consumers. So at present user acquisition is the main focus," he said.
The application is available for free download from Download WeChat for free and the company assured us that it will always remain free of cost. Worth a download? Watch this space for a review.