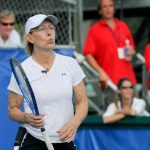 Nairobi: Tennis legend Martina Navratilova was released from a Kenyan hospital three days after she aborted an attempt to ascend Tanzania's Mount Kilimanjaro.
Navratilova was stretchered down the mountain Friday when she developed high-altitude pulmonary oedema as the team of climbers she was leading in the charity ascent reached 4,500 metres.
"I am feeling much better and really pleased to be going home," the 54-year-old said after her Sunday release from a Nairobi hospital.
The rest of the team reached the peak of the 5,895-metre mountain, Africa's highest, on Saturday, sports charity Laureus said.