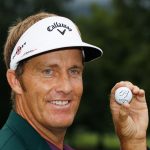 Ponte Vedra Beach: Australian Stuart Appleby was named the US PGA Tour Comeback Player of the Year after bouncing back from the worst season of his career to make golf history.
Appleby, who turns 40 in May, fired a final-round 59 to win the Greenbrier Classic on August 1, becoming the first player from outside the United States and only the fifth ever to fire the lowest score recorded in any PGA round.
Appleby had not broken 65 in a tour event since 2006, a span of some 358 rounds, and his prior career-low round was a 62 at Las Vegas in 2003.
The magical moment followed a season of frustration in 2009, one that saw Appleby finish 137th on the US PGA money list, forcing him to use a one-time exemption for being among the top 25 in career money to return in 2010.
The move led to the magical round at White Sulfur Springs, West Virginia, to win the Greenbrier and a 38th-place showing on the 2010 tour in a year he capped with a victory in the Australian Masters.
"Stuart showed great perseverance in returning to the winner's circle at the Greenbrier Classic in a historic manner," US PGA Tour commissioner Tim Finchem said.
Players voted the honor to Appleby ahead of American Rocco Mediate and India's Arjun Atwal.
Atwal became the first player from India to win a PGA event when he won the Wyndham Championship only three weeks after Appleby won the Greenbrier title. It was the first US PGA title by a Monday qualifier in 24 years.
Atwal had lost his tour card the month before because he was unable to win enough money to retain his medical exemption from an injury-filled 2009 beyond eight events. The victory gave him a two-year tour exemption.