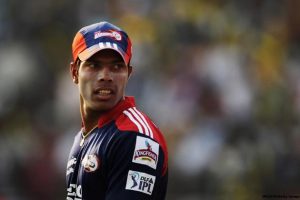 One of the surprise buys of the IPL auction, pacer Umesh Yadav bought by Delhi Daredevils, does not want to get carried away by the money and glamour of the mega-event, and instead is keen to focus on his ultimate goal of playing Test cricket for India.
The 23-year-old wants to use IPL as a platform for fulfilling his dream of playing Test cricket for the country.
"IPL is the best platform to showcase your talent. The money and glamour attached to it is okay but I will not get distracted by that. My aim is to play Test cricket for India because that is the ultimate test of any cricketer's mettle," said the young bowler, who has taken 13 wickets in seven Ranji Trophy matches this season.
Umesh, with a base price of $50,000 went for a whopping $750,000, in the much hyped auction at Bangalore where some of big names remained unsold.
"I never expected to bag such a high price. Frankly, I thought that I would get around 1.5 to 2 crores but 3.5 crores has come as a surprise to me. I will try to give my best for the franchise which has spent such a huge amount on me," Yadav said."
Media reports suggested that ego clash between franchisees turned out to be the main reason behind the whopping bid for Yadav but the bowler feels otherwise.
"I think I got the reward of a good domestic season and the franchise also knows me very well as I was a part of Delhi Daredevils team in last two seasons as well," said Yadav.
The medium pacer from Vidarbha considers himself lucky that he was a part of Daredevils dressing room, as he got a chance to learn a few tricks of the trade from none other than his idol Glenn McGrath.
"McGrath is my idol and I have learnt a few tricks from him during the second season of IPL. I also watched his bowling from very close quarters, which I think did wonders for me."
Yadav also said that despite not playing any match in South Africa in the recently concluded three-match Test series, he has learnt a lot from the senior Indian bowlers and gained valuable experience.
"Though I have not played any match in South Africa but learnt a lot from Zaheer (Khan), Sreesanth and the coaches. This experience has made me a better bowler, which I think will come in handy during the IPL 4. I hope to perform better than the previous two seasons," Yadav said.