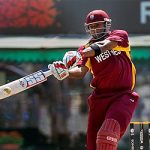 MOHALI: Kieron Pollard said on Friday he's the man to step up for West Indies at the World Cup in the absence of injured allrounder Dwayne Bravo.
Pollard showed more of his potential with a career-best 94 from 55 balls to set up West Indies winning total in the Group B game against Ireland.
Pollard has responded to being promoted to No. 5 in the order after Bravo's tournament ended with a knee injury with two big-hitting half-centuries in two innings.
He smashed 60 off 27 balls against Netherlands and then eight fours and five sixes against the Irish for his highest one-day score. Worryingly for England's and India's shaky bowling attacks, the 23-year-old Trinidadian says there's more to come.
West Indies finishes its group campaign with high-profile matchups against those two countries and one victory will be enough to send the Caribbean team sauntering into the last eight.
"I think it's a stepping stone for me," Pollard said of his destructive assault on Ireland's bowlers. "Actually getting to go out there and get some more overs to bat and backing myself.
"It was an opportunity and a stepping stone so obviously I can use this to go on and play better innings and more frequent innings for West Indies."
Pollard said he — like the rest of the team — had been inspired by Bravo's unfortunate injury. West Indies' leading allrounder sustained ligament and cartilage damage in his left knee in the opening defeat to South Africa after falling awkwardly trying to stop a ball off his own bowling.
Bravo continues to be the West Indians' inspiration, Pollard said, with the team reeling off successive wins against Netherlands, Bangladesh and now Ireland. And Pollard is proving to be a ready-made replacement.
"Obviously Dwayne is a big loss for us. It's pressure for us because he is an influential player," Pollard said. "It's a matter of somebody taking up the mantle and stepping into that position.
"I'm just going to try to do that and bring the same thing that Dwayne brings."
West Indies captain Darren Sammy said Pollard had gone out and "expressed himself" against Ireland. The Pollard problem had left Irish skipper William Porterfield without any answers, even before the match.
"You make plans for all players and he's one that you scratch your head at in team meetings," Porterfield said. "He's a pretty special talent. There's not many grounds big enough to contain him, as well.
"He is a great player and he's going to take sides apart."