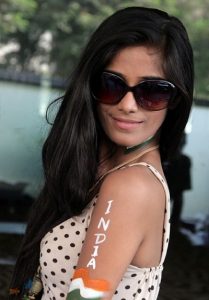 Poonam Pandey became a household name, thanks to her promise to strip if India won the World Cup. While she didn't quite get down to the act, the model says she was fully aware of what she was saying and enjoyed the public response.
"I took it as fun, but people made an issue out of that because I was an Indian girl and not allowed to do such things," Poonam, 20, told.
"I did many things like opening the fan page on Facebook where I did an exclusive photo shoot. But I was not satisfied, so I came up with this idea, which worked well. It was my own decision and I was awake and fully aware of what I was saying," said Poonam.
Suddenly she became a much googled name on the internet.
She said she was refused permission by the cricket board about stripping before the victorious Indian team and will not request it any more.
But "I want the media to support me and convey my message to the members as there is no point in asking same thing again and again".
Did she face any difficulties after her announcement?
"Yes, there were many problems which nobody can even think of. I avoided going to public places. I faced issues like court cases, arrest warrants and calls from the moral police. But, anyway, it was a good experience," she said, giggling – though not looking comfortable in an off shoulder transparent black short dress.
Now Poonam is ready to show her dare devil attitude on the small screen as a participant on Color's adventure show "Khatron Ke Khiladi 4" where she will feature with 12 other celebrities.
"I have seen the previous season of the show. It's something very different and adventurous and that will not be a problem for me as I was into sports during school days. It will be fun facing my fear.
"This season, the production has added the word 'Torchaar' which speaks many things, so I am looking forward to go on the ride with Bollywood Khiladi Akshay Kumar," said Poonam.
She was one of the top contestants of the Gladrags' model hunt contest last year and also modelled for the Kingfisher calendar.
"It's a very strange story. I am a 20-year-old girl, still going to college in Mumbai but I don't get the time to attend classes because of work. I started my career six-and-a-half months back, so it's a new experience for me.
"When I thought of becoming a model, the next day I got Gladrags' offer. After that I did the Kingfisher calendar and then I became the most downloaded model on the internet; so the journey was exciting," Poonam said.
Is Bollywood her next destination?
"Of course, everyone targets Bollywood. I got movie offers and item numbers but I will not disclose it at the moment because I have not given any commitment to anybody," concluded Poonam.