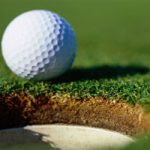 Mumbai: Former champion Ashok Kumar, who heads the PGTI annual rankings currently, and third-place finisher in the recent Indian Open, Manav Jaini, lead the star-studded field in the Rs 80-lakh prize money Crompton Greaves Open Golf Tournament commencing here on Wednesday.
The other top professionals who would be vying for the Rs 12.93-lakh first prize in the four-day stroke-play competition at the Bombay Presidency Golf Club course are C Muniyappa, Mukesh Kumar, Vijay Kumar, Shamin Khan, it was announced at a media conference here on Tuesday.
The runner-up would pocket Rs 8.93 lakh while the third and fourth finishers would go home richer by Rs 5.01 and Rs 4.05 lakh respectively.
Kumar, who holds the four-day course record of 19 under on the par-70 18-hole course, said that the course looked very good and he aims to better his own three-year-old record.
"The course is beautiful. It was here in 2007 that I created a new course record and I hope I can better it. I am playing very well," said the 29-year-old Kumar who finished tied 5th in the Indian Open last week in Delhi.
He is just over a lakh short of touching Rs 50 lakh this year in prize money.
Jaini, who caught the eye by finishing tied 3rd in the Indian Open and is seventh in the PGTI rankings going into the tournament, said that the course was in excellent shape.
"The course is in an excellent shape. I am playing really well. I am also hungry for a win," said the 27-year-old who came up with two top-ten finishes last season and has won Rs 21 lakh this year.
BPGC captain Brijender Singh said that the course has been re-laid and he looked forward to a good tournament. "Hope we will have an exciting week's golf," he said.
PGTI director Padamjit Sandhu said that the tournament was the penultimate one in the calendar which carried a total prize of Rs 10 crore which is a five-fold increase from the first year in 2006.
Sandhu said that Indian golf was looking up which was indicated by the fact that 80 per cent of the leader board in the Indian Open was occupied by Indians.
"The field had not become weak, but Indian challenge has become stronger. When PGTI was formed we had around 60 members and now the number has swelled to nearly 400. From quantity comes quality. The aim of the PGTI was not only to conduct tournaments with good prize money in India but also to elevate Indian golfers standard to compete at the international level," he said.
The prize money for finishing between the 5th and 50th positions ranges from Rs 3.25 lakh to Rs 34,000.